Discover a new you with a healthy lifestyle change
DNA Miracles Isotonix OPC-3®
sku 6939
$73.95
This product qualifies for free or reduced cost shipping. Learn More
Product Classifications
---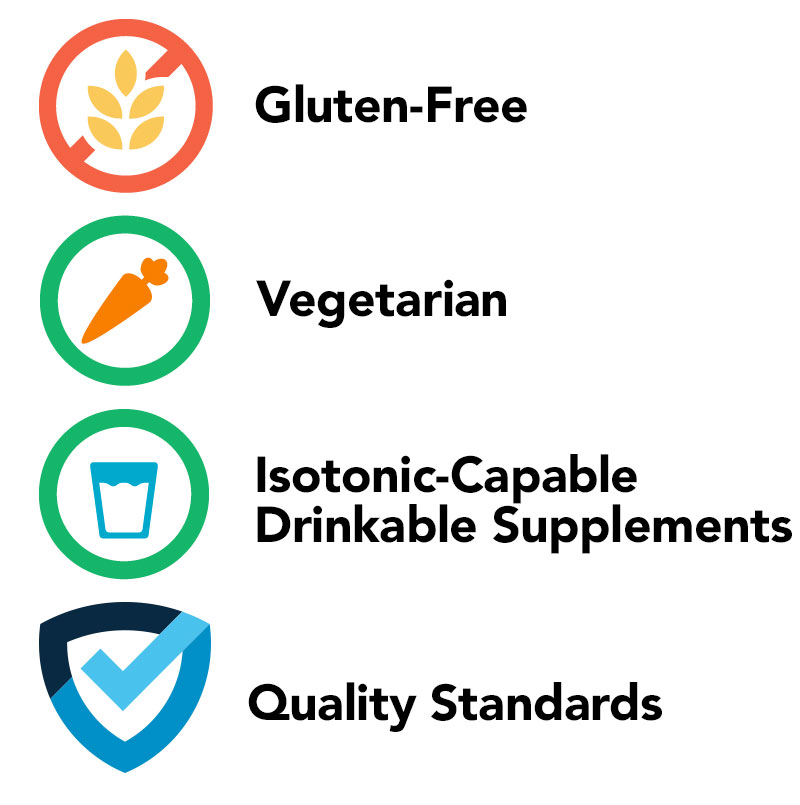 Gluten-Free - The finished product contains no detectable gluten (<10ppm gluten)
Vegetarian - This product is vegetarian
Isotonic-Capable Drinkable Supplements - Easy-to-swallow supplements in liquid form are immediately available to the body for absorption
Quality Standards - GMP Operations and Standardized Ingredients
Checked For: Heavy Metals, Microbiological Contaminants, Allergens, Residual Solvents, Potency, Purity and Identity
Benefits
---
Provides strong antioxidant defense
Powerful free-radical scavenger
Helps maintain brain health
Supports the production of neurotransmitters
Helps maintain healthy circulation by strengthening capillaries, arteries and veins
Supports healthy blood vessel dilation
Promotes healthy nitric oxide levels
Ingredients
---
Pine Bark Extract (Pycnogenol®): 20 mg
Pycnogenol ® is a natural plant extract from the bark of the maritime pine tree, which grows exclusively along the coast of southwest France in Les Landes de Gascogne. This unspoiled, natural environment is the unique source of this pine bark. Pycnogenol is one of the most researched ingredients in the natural product marketplace. Published findings have demonstrated Pycnogenol's wide array of beneficial effects on the body, specifically in the realm of antioxidant health. Pine bark extract is an all-natural combination of proanthocyanidins, bioflavonoids, and organic acids. The extract has three basic properties, it is a powerful antioxidant, selectively binds to collagen and elastin, and promotes normal production of endothelial nitric oxide, which promotes normal dilation of blood vessels. Pycnogenol is especially beneficial to children who need neurological, metabolic, or digestive support because it neutralizes many free radicals before they cause oxidative stress. Its super-antioxidant capabilities help support healthy blood platelet activity, help maintain joint flexibility, promote cardiovascular health, help maintain healthy cholesterol levels, and support a healthy complexion.
Grape Seed Extract 12.5 mg
Grape seed extract is typically extracted from the seeds of red grapes (instead of white), which have a high content of compounds known as oligomeric proanthocyanidins (OPCs). Grape seed extract is extremely rich in polyphenols, compounds with high antioxidant activity. Children who need neurological, metabolic or digestive support would benefit from grape seed extract because it helps to reduce the stress of free radicals and minimize oxidative stress caused by environmental toxins.
Grape Skin Extract
Grape skin extract is a powerful antioxidant. The antioxidant properties of grape skin extract contribute to maintaining healthy circulation by strengthening capillaries, arteries, and veins, and promoting overall cardiovascular health. Scientific studies have further shown that the OPCs found in grape skin are particularly beneficial for supporting a healthy heart and blood vessels.
Bilberry Extract 12.5 mg
Bilberry extract is derived from the leaves and berry-like fruit of a common European shrub closely related to the blueberry. Extracts of the ripe berry contain flavonoid pigments known as anthocyanins, which are powerful antioxidants. Scientific studies confirm that bilberry extract supports healthy vision and venous circulation. Bilberry extract helps maintain healthy circulation by strengthening capillaries, arteries, and veins. Children who need neurological, metabolic or digestive support may benefit from bilberry extract because of its ability to support healthy vision and venous circulation as well as circulation to the brain.
Citrus Bioflavonoids Extract 12.5 mg
Bioflavonoids are antioxidants found in certain plants that act as light filters, which protect the plant's DNA and other important macromolecules by absorbing ultraviolet radiation. They have been found to promote cardiovascular health and help maintain healthy circulation by strengthening capillaries, arteries, and veins. The ability for citrus bioflavioids to maintain healthy circulation by strengthening capillaries, arteries, and veins is also beneficial for helping maintain brain health and supports the production of neurotransmitters in children.
Hyaluronic Acid (Sodium Hyaluronate): 7.5 mg
Hyaluronic acid plays an important role in tissue hydration, lubrication, and cellular function. It is a key component of collagen, and it promotes skin, joint and eye health. It may also support the normal production of synovial fluid and normal healing. Children who need neurological, metabolic or digestive support would benefit from the normal healing properties of hyaluronic acid.
Biotin 75 mcg
Biotin, a water-soluble B vitamin, acts as a coenzyme in the metabolism of protein, fats, and carbohydrates. Biotin also supports various metabolic chemical conversions.
Vitamin C (Ascorbic Acid): 100 mg
Vitamin C, also known as ascorbic acid, is a water-soluble vitamin that has a number of biological functions. It supports normal tissue repair including skin and bone healing, as well as immune function. It is also a cofactor for the production of dopamine, a neurotransmitter. Supplementing with a proven antioxidant like vitamin C is helpful in combating free radicals. Vitamin C supports glutathione levels, another important antioxidant and detoxifying chemical in the body. Vitamin C can help to support the immune system and provide strong antioxidant defense against any environmental or dietary stresses.
Vitamin D3 (Cholecalciferol): 5 mcg
Vitamin D supports efficient intestinal absorption of calcium and phosphorus, primarily in the duodenum and jejunum, by promoting synthesis of calcium-binding proteins which promote calcium absorption and retention. In addition to supporting strong bones, vitamin D promotes muscle strength and neuromuscular function. The main function of vitamin D is to support normal regulation of serum calcium concentrations.
Vitamin E (D-Alpha-Tocopheryl Acetate): 11 mg
Vitamin E is a fat-soluble vitamin proven to be a strong antioxidant. It supports the structural and functional maintenance of skeletal, cardiac, and smooth muscle. It also promotes the normal formation of red blood cells, supports cardiovascular function and promotes immune health.
Calcium (Lactate): 200 mg
Calcium supports many functions in the body, including bone health, nerve transmission, muscle contraction, vascular contraction, vasodilation, glandular secretion, cell membrane and capillary permeability, enzyme reactions, respiration, renal function, and blood coagulation. Children who need neurological, metabolic or digestive support would benefit from a calcium supplement that supports strong bones and teeth, promotes healthy growth in adolescents, and plays a critical role in the contraction of skeletal and heart muscles.
Magnesium (Carbonate): 75 mg
Magnesium, an essential mineral, promotes the normal functioning of many enzymes, in particular those enzymes responsible for the production of neurotransmitters in the brain. Magnesium supports several hundred other metabolic pathways, including those involved in bone, protein and fatty acid formation, B-vitamin activation, muscle relaxation, blood clotting, and formation of adenosine triphosphate (ATP; on the high energy molecule that fuels enzymatic reactions throughout the body). Magnesium supports the production of neurotransmitters and also helps to maintain brain health.
Potassium (Potassium Bicarbonate): 50 mg

Potassium is an essential micromineral that helps to maintain a healthy fluid and electrolyte balance in the body. Potassium plays a role in a wide variety of biochemical and physiological processes, such as promoting the normal synthesis of glycogen and proteins, promoting the proper release of energy from protein, fat, and carbohydrates during metabolization, promoting the normal elimination of wastes, and contributing to a general sense of well-being. Potassium supports the isotonic delivery system for dietary supplements.
Why Choose DNA Miracles Isotonix OPC-3?
---
Antioxidants aren't just important for adults; they provide astounding benefits for growing children, as well. Sometimes, though, it's difficult for children to get complete antioxidant protection from their typical diet, especially if they are picky eaters. That's why we're proud to offer one of the most complete, most effective antioxidant products available for children – DNA Miracles Isotonix OPC-3. In children's nutrition, DNA Miracles Isotonix OPC-3 is in a class of its own, providing your child a comprehensive formula designed to facilitate growth and development, as well as provide antioxidant defense. DNA Miracles Isotonix OPC-3 supports your child's heart health using amazing ingredients, including the highly-researched, clinically-studied plant extract Pycnogenol ® . Like all Isotonix supplements, DNA Miracles Isotonix OPC-3 uses the Isotonix Delivery System – delivering the product's nutrients fast and effectively, maximizing results that can be felt quickly. DNA Miracles Isotonix OPC-3's blend of vitamins, bioflavonoids and other nutrients are absorbed quickly, providing strong antioxidant defense for a child's body, contributing to the maintenance of brain health and circulation. Because Every Child is a Miracle.
DNA Miracles Isotonix OPC-3®
---
Isotonix Delivery System
---
Isotonix - the World's Most Advanced Nutraceuticals
Isotonic, which means "same pressure," bears the same chemical resemblance of the body's blood, plasma and tears. All fluids in the body have a certain concentration, referred to as osmotic pressure. The body's common osmotic pressure, which is isotonic, allows a consistent maintenance of body tissues. In order for a substance to be absorbed and used in the body's metabolism, it must be transported in an isotonic state.

Isotonix dietary supplements are delivered in an isotonic solution. This means that the body has less work to do in obtaining maximum absorption. The isotonic state of the suspension allows nutrients to pass directly into the small intestine and be rapidly absorbed into the bloodstream.With Isotonix products, little nutritive value is lost, making the absorption of nutrients highly efficient while delivering maximum results.

FAQs
---
What are OPCs?
DNA Miracles Isotonix OPC-3formula includes some of the most powerful bioflavonoids – biologically-active members of plant-derived compounds – currently known to research scientists. These bioflavonoids are scientifically termed oligomeric proanthocyanidins , commonly abbreviated OPCs. The purest and best-researched OPCs include grape seed, red wine, grape skin, bilberries, citrus fruit, and pine bark extract, or Pycnogenol.
Is DNA Miracles Isotonix OPC-3 safe?
Yes. OPCs are among the most valuable constituents of a healthy human diet. OPCs have been researched and used for over 30 years throughout Europe. Extensive safety studies were conducted which revealed no evidence for human toxicity or allergic reactions. This product contains pure OPCs in combination with carefully balanced quantities of potassium and fructose/glucose, which set up the isotonic delivery system. DNA Miracles Isotonix OPC-3 is free of harmful chemicals, preservatives and alcohol.
Are there any allergens in DNA Miracles Isotonix OPC-3?
DNA Miracles Isotonix OPC-3 is a vegetarian product and contains no wheat, soy, yeast, gluten, artificial flavor, starch, salt, preservatives or milk.
What is the serving size for DNA Miracles Isotonix OPC-3?
Children ages 2-3 should take one (1) level capful mixed with two ounces (2 oz.) of water once daily or as directed by your healthcare provider. Children ages four and up take two (2) level capfuls mixed with four ounces (4 oz.) of water once daily or as directed by your healthcare provider.
Can my children take DNA Miracles Isotonix OPC-3 in addition to other DNA Miracles products?
An assortment of DNA Miracles products – DNA Miracles Chewable Probiotics, DNA Miracles Essential Omega 3, DNA Miracles Isotonix Digestive Enzymes, and DNA Miracles Isotonix Multivitamin or DNA Miracles Isotonix Multivitamin Plus – can be taken in addition to DNA Miracles Isotonix OPC-3. Also, children can take their DNA Miracles Isotonix products at the same time, as long as they are mixed using the proper ratios (one level capful of DNA Miracles Isotonix powder for every two ounces of water).
Science
---
Adams J. Summary of Biomedical Treatments for Autism. Autism Research Institute Publication. 40 (April), 2007.
Burton G et al. Vitamin E: Antioxidant activity, biokinetics, and bioavailability. Annual Review Nutrition. 10:357-382, 1992.
Chovanová Z et al. Effect of polyphenolic extract, Pycnogenol, on the level of 8-oxoguanine in children suffering from attention deficit/hyperactivity disorder. Free Radical Research. 40(9):1003-10, 2006.
Devaraj S et al. Supplementation with a pine bark extract rich in polyphenols increases plasma antioxidant capacity and alters the plasma lipoprotein profile. Lipids 37:931-4, 2002.
Diliberto E et al. Multicompartmental secretion of ascorbate and its dual role in dopamine b-hydroxylation. American Journal of Clinical Nutrition. 54(6 Supplement):1163S-72S, 1991.
Dolske M. et al. A preliminary trial of ascorbic acid as supplemental therapy for autism. Progress in Neuropsycho-pharmacology and Biological Psychiatry. 17(2):765-774, 1993.
Dvoráková M et al. The effect of polyphenolic extract from pine bark, Pycnogenol on the level of glutathione in children suffering from attention deficit hyperactivity disorder (ADHD). Redox Report. 11(4):163-72, 2006.
Fine A. Oligomeric proanthocyanidin complexes: history, structure, and phytopharmaceutical applications. Alternative Medicine Review 5:144-51, 2000. Review.
Fitzpatrick, D., et al. Endothelium-dependent vascular effects of Pycnogenol. Journal of Cardiovascular Pharmacology 32: 509-515, 1998.
Freedman, J., et al. Select flavonoids and whole juice from purple grapes inhibit platelet function and enhance nitric oxide release. Circulation 103:2792-8, 2001.
Frei B et al. Ascorbate is an outstanding antioxidant in human blood plasma. Proceedings of the National Academy of Sciences USA. 86(16):6377-6381, 1989.
Gulati, O. Pycnogenol® in venous disorders: a review. European Bulletin of Drug Research 7: 1-13, 1999.
Guo Q et al. Electron spin resonance study of free radicals formed from a procyanidin-rich pine (Pinus maritima) bark extract, Pycnogenol®. Free Radical Biology Medicine. 7(11-12): 1308-1312, 1999.
Henning S et al. Glutathione blood levels and other oxidant defense indexes in men fed diets low in vitamin C. Journal of Nutrition. 121:169-175, 1991.
James S et al. Metabolic biomarkers of increased oxidative stress and impaired methylation capacity in children with autism. American Journal of Clinical Nutrition. 80(6):1611-7, 2004.
Johnston C et al. Vitamin C elevates red blood cell glutathione in healthy adults. American Journal of Clinical Nutrition. 58(1):103-105, 1993.
Kidd P Attention deficit/hyperactivity disorder (ADHD) in children: rationale for its integrative management. Alternative Medicine Review. 5(5):402-28, 2000. Review.
Kim J et al. Effect of select antioxidants on malondialdehyde modification of proteins. Nutrition. 16: 1079-1081, 2000.
Kirsch M et al. Ascorbate is a potent antioxidant against peroxynitrite-induced oxidation reactions. Evidence that ascorbate acts by re-reducing substrate radicals produced by peroxynitrite. Journal of Biological Chemistry. 275(22):16702-16708, 2000.
Kuo C et al. Ascorbic acid, an endogenous factor required for acetylcholine release from the synaptic vesicles. Japan Journal of Pharmacology. 30(4):481-492, 1980.
Lenton K et al. Vitamin C augments lymphocyte glutathione in subjects with ascorbate deficiency. American Journal of Clinical Nutrition. 77(1):189-195, 2003.
McGinnis W. Oxidative stress in autism. Alternative Therapies in Health and Medicine. 10(6):22-36, 2004. Review.
Meydani M. Protective role of dietary vitamin E on oxidative stress in ageing. Age. 15:89-93, 1992.
Monograph. Vaccinium myrtillus (bilberry). Alternative Medicine Review 6:500-4, 2001.
Nelson A et al. Pycnogenol® inhibits macrophage oxidative burst, lipoprotein oxidation and hydroxyl radical-induced DNA damage. Drug Development and Industrial Pharmacy. 24 (2): 139-144, 1998.
Nishioka K et al. Pycnogenol, French maritime pine bark extract, augments endothelium-dependent vasodilation in humans. Hypertension Research. 30(9):775-80, 2007.
Numakawa Y et al. Vitamin E protected cultured cortical neurons from oxidative stress-induced cell death through the activation of mitogen-activated protein kinase and phosphatidylinositol 3-kinase. Journal of Neurochemistry. 97(4):1191-1202, 2006.
Nuttall S et al. An evaluation of the antioxidant activity of a standardized grape seed extract, Leucoselect. J Clin Pharm Ther 23: 385-89, 1998.
Packer L et al. Antioxidant activity and biologic properties of a procyanidin-rich extract from pine (Pinus maritima) bark, pycnogenol. Free Radicals in Biology and Medicine. 27:704-24, 1999. Review.
Paleologos M et al. Cohort Study of Vitamin C Intake and Cognitive Impairment. American Journal of Epidemiology. 148(1):45-50, 1998.
Rimland B. Vitamin C in the Prevention and Treatment of Autism. Autism Research Review International. 12:3, 1998.
Rohdewald P. A review of the French maritime pine bark extract (Pycnogenol®), an herbal medication with a diverse clinical pharmacology. International Journal of Clinical and Pharmacology Therapeutics. 40:158-68, 2002. Review.
Shi, J., et al. Polyphenolics in grape seeds-biochemistry and functionality. J Med Food 6:291-9, 2003. Review.
Trebatická J et al. Treatment of ADHD with French maritime pine bark extract, Pycnogenol. European Child and Adolescent Psychiatry. 15(6):329-35, 2006.
Wallerath, T., et al. Resveratrol, a polyphenolic phytoalexin present in red wine, enhances expression and activity of endothelial nitric oxide synthase. Circulation 106:1652-8, 2002.
Wei Z et al. Pycnogenol enhances endothelial cell antioxidant defense. Redox Report 3: 219-24, 1997.
Yao Y et al. Altered vascular phenotype in autism: correlation with oxidative stress. Archives of Neurology. 63(8):1161-4, 2006.
Reviews
---
A winner for our granddaughter
We suggested this product for our granddaughter and the results have been really impressive. Her skin is now so clear and radiant.
Response from Customer Service
04/29/2020
Dear Valued Customer,

Thank you for taking the time to leave your thoughts on the nutraMetrix DNA Miracles Isotonix OPC-3! We are happy to hear you are pleased with the product.

Thank you again!
The Product Information Team
OPC-3
I have just started using this product. I have noticed more energy and I am sleeping much better at night.
Love this stuff!
My kids have taken this product and Immune all winter long. It has helped them stay healthy and couldn't be happier! I highly recommend this to everyone.
drink those vitamins
My kids love drinking their vitamins just like their parents.
Flavor
It seems to have a stronger flavor than it had before.
Response from Customer Service
11/23/2020
Dear Valued Customer,

Thank you for taking the time to share your thoughts on the DNA Miracles Isotonix OPC-3! As the product contains natural ingredients, the flavor of the product can vary slightly based on factors such as season. A Product Information Specialist will be reaching out to you directly to discuss this in further detail.

Thank you again for your feedback!
The Product Information Team